An Introduction to Bridge Connections
Keith Schmidt – Principal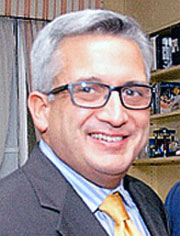 Keith Schmidt is a lifelong resident of Pennsylvania. Keith's journey into public life began at a very young age. In 1980, he worked as an intern in Southwestern Pennsylvania for Governor Ronald Reagan's successful presidential campaign. His association with the 40th President of the United States has served as one of the biggest influences in his life. A year after he delivered the commencement address at his high school graduation in 1982, he won a seat on the Montour School Board. He was the youngest person ever to be elected to an at-large seat on a school board in Pennsylvania's history. Keith went on to study political science at the University of Pittsburgh.
From 1985 to 1990, Keith worked professionally in marketing and public relations. Throughout the 1980's, Keith continued to serve in a number of elected and appointed positions in local and county politics. These positions include serving as: Chair of the Robinson Township Parks and Recreation Board, an elected Allegheny County Committeeman, President of the Western Hills School Joint Committee, and a Board Member of the West Hills Special School Authority. He also worked on numerous campaigns for local, state and federal offices, including Rick Santorum's successful 1990 race that unseated seven-term Congressman Doug Walgren.
In December of 1990, Keith was asked to join Rick Santorum's transition team. He went on to serve as the Congressman's Veterans and Military Affairs Coordinator for three and a half years. In May 1994, he took a leave of absence to join the Santorum race for the U.S. Senate. He served as Deputy Campaign Manager in charge of statewide coalitions. Keith returned to Senator Santorum's official staff in January 1995 assuming the role of State Director for the 34 counties of Western Pennsylvania. Outside of his official duties, Senator Santorum appointed Keith in January of 1998 to serve as his Political Director in Pennsylvania. One year later, in January of 1999, he was named the Campaign Manager for the Senator's re-election. In mid February of 2000, Keith took on the duties of overseeing statewide grassroots and business coalitions. After Rick Santorum's re-election, Keith returned to his position as State Director on the Senator's official staff.
In addition to his positions with Senator Santorum, Keith was a board member and officer of ACTION Housing, Inc Pittsburgh from 1993 until 2002. In 1996 he served as State Director of Grassroots Operations for the Al Salvi for U. S. Senate race in Illinois, and has previously served as a longtime officer and President of the Pittsburgh Youth Ballet Company. From 1997 through 1999, Keith served as the Chairman of the Development Committee for the Republican Committee of Allegheny County. In 1998, Keith was appointed by the Pennsylvania Senate to serve on the five-member Allegheny County Apportionment Commission. In March of 2000, Allegheny County's Republican Chief Executive Jim Roddey appointed him as one of nine members to serve on the Election Department Transition Team. In 2004, Dan Onorato, Jim Roddey's Democratic successor for County Executive, appointed Keith to his transition team as well.
In December of 2004, following six years on the VLP Board, Keith was the first male non-veteran ever to be elected President of the Veterans Leadership Program. A position he remained in until January of 2006. In recent years, he served as a member of the Board of Directors of both the Pittsburgh Ballet Theatre and the Pittsburgh Film Office. Other positions of interest include serving as the Founder and President of the former Robinson Township Library Association, and a former member of the Institute of Politics Board of Fellows at the University of Pittsburgh. He still serves on the Steering Committee for the Greater Pittsburgh Community Leaders Prayer Breakfast held each February.
For over 30 years, Keith has been a community leader and a public affairs activist. He has consulted dozens of campaigns for the County and State Judiciary. Keith has also contributed to races for Congress, Auditor General, Attorney General, U.S. Senate, Lt. Governor, Governor, and President. During his political career, he was consistently ranked on Pennsylvania's Power 50, a list of the most powerful and influential non-elected people in the Commonwealth.
In March of 2007, Keith's career in the United States Senate came to an end. That same month, he formed a sole proprietorship under the name "Bridge Connections". His consulting company works with non-profit corporations and associations, for profit businesses, community leaders, public officials, and private individuals. His consulting company specialized in strategic planning, relationship building, crisis management, business development, public relations and government affairs. In the spring of 2008, Keith began appearing as a political commentator on WQED-TV Pittsburgh. He has filled in as a panelist on the "On Q" and "4802" programs, and has served as a regular contributor on the "Road to the White House" specials hosted by Stacy Smith of KDKA-TV. More recently, Bridge Connections was hired to consult the Santorum for President Campaign. Also in 2012, Keith was commissioned a "Kentucky Colonel" by Governor Steve Beshear.
Keith is passionate about his faith, his family and his friends. He enjoys the performing arts, public speaking and mentoring young men and women. Service to God and Country is what has defined his life thus far.
Joe Nickel – Logistics Director
A native of Pittsburgh, PA, Joe joined Bridge Connections in the spring of 2010. Joe expands Bridge Connections' services with his experience of world travels, event planning, international networking, promotion and marketing.
In 2012, Joe was an honoree of the Cystic Fibrosis Foundation's "Pittsburgh's 50 Finest" and now serves on their Steering Committee Board. Joe has a passion of the Arts & Entertainment in Pittsburgh as he teaches and mentors high school students and young professionals in Musical Theater Performance.